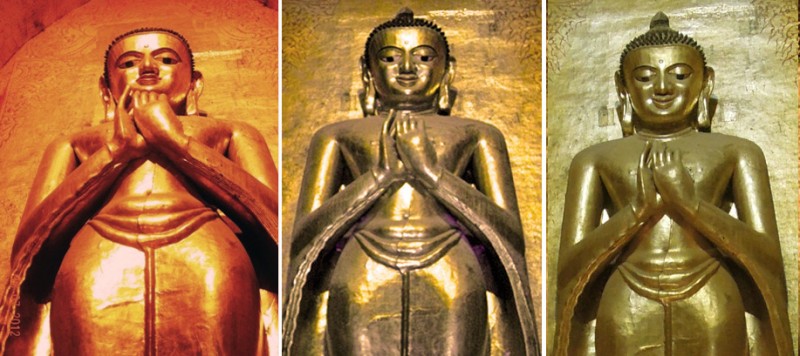 In this wonderful image of the Buddha from Bagan, Myanmar, facial expression changes from stern through smiling to radiant as the figure is viewed from increasing distance.  According to my friend Eddy Keon, the highest status members of the temple audience, along with temple officials, would have stood closest to the Buddha and therefore have experienced him at his sternest, whilst his radiance increased with the poverty of the viewer, banished to the back of the crowd.
The figure is the Kassapa Buddha, one of four Buddhas in the Ananda Temple, Bagan, Myanmar.  The city was the capital of the ancient Pagan kingdom, built, along with the temple and this figure of the Buddha, eight hundred years ago.
 The left hand and centre photos are from the brilliant travel blog of Forrestwalker.  The right hand image was taken by Eddy Keon.  His photo is so beautiful, here's the whole thing.  Eddy hopes to use his pictures to support a hill village school in Myanmar.