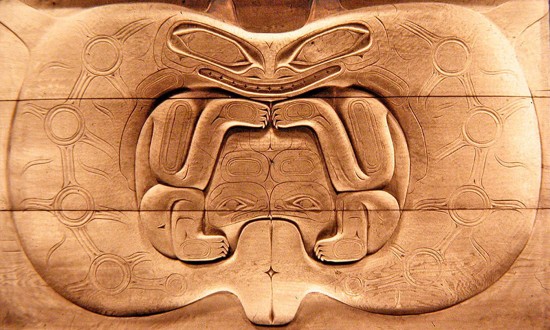 Depending how you see it, this panel either shows two killer whales looking at one another in profile, or a bear looking at you head on – the killer whales' fins top centre become the bears' ears.  And then the killer whales' tails centre bottom become the mouth of a third creature, probably a frog, but the carving was never finished, so only its eyes are carved.
The panel is probably about a hundred years old, and is about five foot wide (1.6 meters or so).  It's not known why it was never finished, but in the tradition of north west coast Canadian carving, the decoration on the killer whales would have been carved into deeper relief, not just sketched out on the surface.  Nor is it known from just which ethnic group in North West Coast Canada it comes.
However in the mythology of all the groups of that area, such as the Haida and the Kwakuitl, transformations of one creature into another are part of the scheme of things.  That includes transformations by hunting and eating, which were traditionally understood as sacred activities.  So what we see here is not just a visual game, but has spiritual meanings.
For more on that see our earlier post on ambiguous patterns, and other posts in the Illusions and Aesthetics category.
The panel is in the reserve collection of the Manchester Museum.