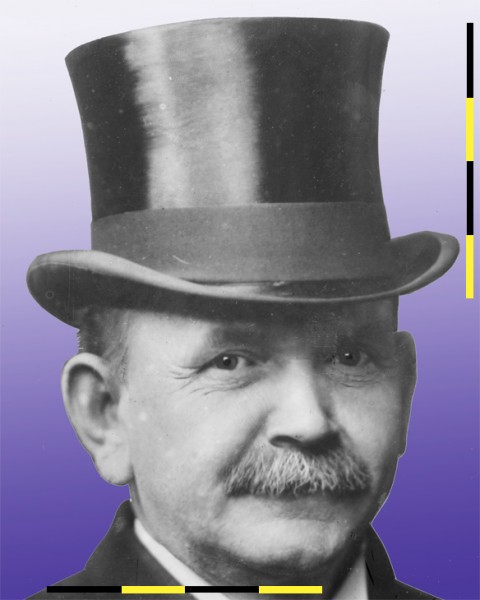 This aimiable looking old guy was Austin Crothers, governor of Maryland USA in the first years of the last century, and a notable scourge of deception and corruption.  His top hat however presents one mysterious deception that even he couldn't unravel.  It looks to me about as wide as it is high. But now look at the measuring rod, first when vertical, and running the full height of the hat.  When horizontal, at the foot of the picture, we can see that the same line stretches only a touch over two thirds of the way across the width of the hat. The hat is MUCH wider than it is high.  It's an example of the horizontal/vertical illusion – we tend to overestimate height. Check out pictures of the St. Louis Arch, seen from the front, for example.  It's just as wide as it's high, but looks higher.
There's no agreement on why.  There are lots of speculations, for example that the effect arises from some adjustment to allow for the inequality between the width and height of the visual field in normal binocular viewing.
The discovery of the illusion is attributed to J.J.Oppel in 1855.  It's usually seen in this simplified version.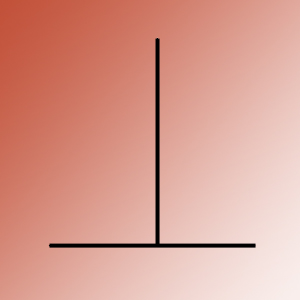 It works the other way up too, and is sometimes called the T illusion.  It's one of many illusions for which you'll find a brilliant interactive demo on Michael Bach's site.
It's amazing that we've made so little decisive progress with simple illusions like this one, after more than a century.  I can't think of another area of science in which progress has been quite so hard, except of course some areas of maths.  But with these illusions, the explanations proposed in papers from over a century ago are sometimes much the same as those we are still discussing today.
The photo of Crothers is from the Grantham Bain collection in the Library of Congress and can I believe be used without copyright restrictions.